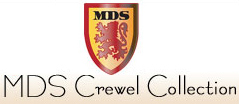 Ravan Inc introduces to you our new fabric manufacturer, MDS Fabrics. They offer an extensive line of crewel fabrics all hand made by artisans and craftsmen of Kashmir India. Crewel embroidery is a decorative form of surface embroidery that uses wool and a variety of different embroidery stitches to follow a design outline applied to the fabric. It carefully highlights uniformity and consistency in stitches with fine thread knots. The patterns and motifs are generally floral, tree of life, birds, geometrical and animal motifs etc.

Crewel fabric is a combination of a base fabric (Cotton, Linen, Viscose Velvet, Matka Silk, Cotton Velvet, Rayon Velvet, Silk Organza, Net Fabric, and Jute) with wool crewel embroidery of various counts and twists. Many different embroidery stitches are used to create a textured and colorful effect. Unlike silk or cotton embroidery threads, crewel wool is thicker and creates a raised, dimensional feel to the work.

You must come into our showroom to see this exciting new line of fabrics!